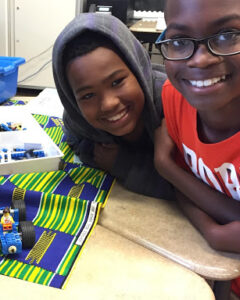 CDF Freedom School® Austin is a year-round culturally responsive family support network that culminates in a free six-week literacy and STEAM education program for scholars ages 6-11.
Since 2014, almost 400 scholars averaged a 9-month increase in reading level during the summer program. Scholars' trajectory for success is fortified with family support, a team of college-aged Servant Leader Interns, and professionals in the community who come together to support and celebrate their potential.
CDF Freedom School® Austin offers:
Literacy, STEM, and arts enrichment

Support for character strengths needed to make good decisions

Culturally responsive teaching and learning

A community that believes in them
Freedom Schools' impact extends to transform college student interns (better known as Servant Leader Interns, or SLIs) into advocates for children and inspire them to be future leaders, and to deepen the community's investment in children.
Our CDF Freedom Schools® Austin program extends the powerful summer learning experience, with year-round family engagement, family centered events, books, educational and cultural materials, community partnerships, and family support.
In 2023, CDF Freedom Schools Austin will serve 50 scholars, in-person, during its summer program located at Norman-Sims Elementary School (AISD).
Championing the cause to defeat summer learning loss and giving every scholar an opportunity to succeed is the foundation of Freedom Schools. In addition to the program elements described below, scholars receive two meals and a snack daily. All CDF Freedom Schools® Austin programming and materials are provided at no cost to our scholars and their families.

Your scholar could be one of the over 100,000 people who have had a CDF Freedom Schools® experience since 1995!
In partnership with Welcome Table Inc., the CDF Freedom Schools® program works hard to ensure each scholar is equipped with the necessary skills to succeed in life. Our program boosts scholars' motivation to read, and generates a more positive attitude towards learning science, technology, engineering, the arts, and math. It also connects the needs of scholars and families to the resources of their communities.
Servant Leader Interns
Servant Leader Interns are college students with the passion and commitment to be role models for our scholars. Interns serve as teachers during classroom activities and mentors through their scholars' time in Freedom School. Interns are paid a stipend and receive 90 hours of training on curriculum delivery, youth development, and classroom management prior to working in Freedom Schools.