Ujamaa (oo-ja-mah)!
On the fourth day of Kwanzaa, December 29, we celebrate Cooperative Economics.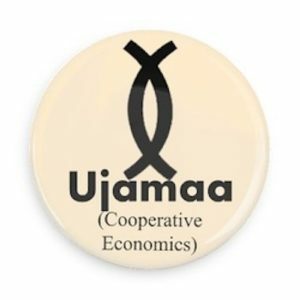 To build and maintain our own stores, shops and other businesses and to profit from them together.
Two interlocking half circles – the Nsibidi symbol of togetherness and family.
Today we light a red candle symbolizing Ujamaa, one of the Nguzo Saba (seven principles) that represent a guide for daily living to be practiced throughout the year.
Harambee! Let's all pull together!