Volunteer to support CDF Freedom Schools Austin and friends at Norman-Sims Elementary School PTA's
first annual Trunk or Treat celebration on
Thursday, October 26, 2023, 4:30 pm to 6:30 pm.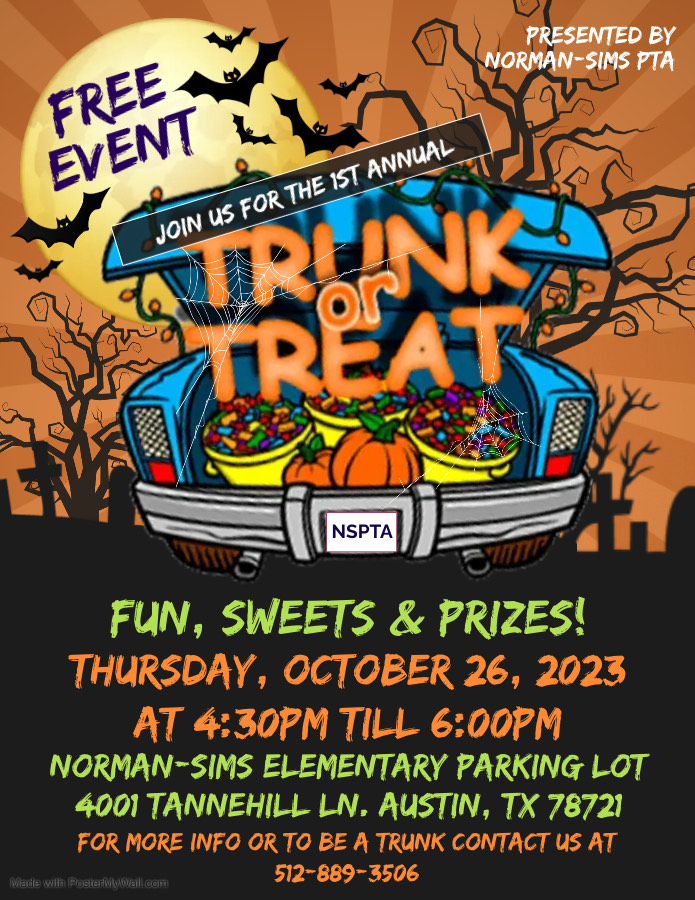 With the help of friends like Reading Buddies, Salesforce, United Way, and CDF Texas we're filling 5 "trunks" in the fleet of resources, goodies, and fun. We need your assistance to help make it a successful event for PK-5th grade scholars and their families. 
How you can help:
Sign up to volunteer at Norman-Sims on Oct 26. You can bring:
You and your vehicle to join the fleet of fun (please sign up on the list, we only have space for 5 vehicles)

Your helping hands, creativity, and enthusiasm to make this a fun-filled occasion for 200 pre-K through 5th graders. Our space-themed decorations and goodies celebrate that Reading Is A Blast! We need lots of volunteers!

 Dress up in a theme costume: think astronauts, rockets, planets, galaxy, universe, Hidden Figures, NASA, stars.  (Or dress up in your favorite costume in general. It's all fun.)

Bring your children and family to the event!
At the sign-up link (https://tinyurl.com/ServeFreedomSchoolsAustin), you can also learn about more opportunities to volunteer in our CDF Freedom Schools community, either at specific events, or for special projects and ongoing needs.
Questions? Please contact [email protected]