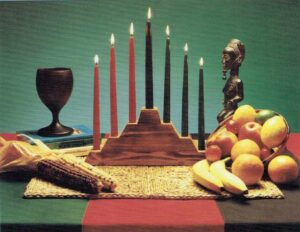 Kwanzaa is an African American and Pan-African holiday which celebrates family, community and culture. Celebrated from December 26 thru January 1, its origins are in the first harvest celebrations of Africa from which it takes its name. The name Kwanzaa is derived from the phrase "matunda ya kwanza" which means "first fruits" in Swahili, a Pan-African language which is the most widely spoken African language.
Like Freedom Schools, St James' Episcopal Church Austin, and Welcome Table, Inc., Kwanzaa is a story of self-determination. Kwanzaa started during a time when people in the US weren't allowed to celebrate the traditions or languages or faith of the African diaspora, nor encouraged to learn about our rich and diverse heritage.
Today we uplift the Nguzo Saba, seven principles that represent a guide for daily living studied during Kwanzaa to be practiced throughout the year.
The Greeting
Habari gani? (Swahili for what's the news) is the official greeting spoken during the 7 days of Kwanzaa. The response is the principle of the day.
Learn More
Click here to learn more about Kwanzaa.
And be sure to visit this blog daily from December 26 to Jan 1, to learn about the Kwanzaa principle of the day.
And please join CDF Freedom Schools Austin at the Carver Museum on Wednesday, December 29, 4 pm – 8:30 pm for the annual Ujamaa Marketplace and Kwanzaa Celebration.
And Sunday, December 26, 11:30 am – 12 pm, join St James' Episcopal Church and the Union of Black Episcopalians – Myra McDaniel Chapter for the annual Kwanzaa Celebration. Participate in-person (masks required) or online (Zoom).