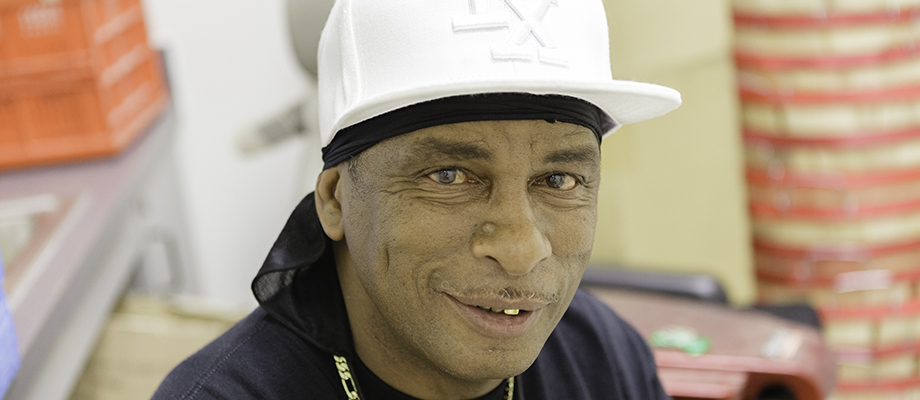 Wayne was born and raised in Austin and attended Lanier High School.  He played football and fondly remembers his principal, one of St. James' own, the late Mr. Ed Elliot.  After high school, Wayne enlisted in the Army.  For two and a half years, he served his country in an artillery unit.   Wayne was injured while on duty and had to leave the Army. He wandered about for a while kind of at loose ends.  He experienced a few rough periods, then attempted to start over, but was besieged with health problems.  He was diagnosed with high blood pressure, which led to other complications, and finally diabetes.
Wayne is the first to tell you that part of his illness is due to neglecting his own health.  Trying to work and take care of his physical needs took its toll on Wayne.  His kidneys began failing and he had to start dialysis.  That changed his life, says Wayne.   But he also says God gave him another chance.  That chance is what brought him to Neighbor2Neighbor.
On a Tuesday, months ago,  Wayne showed up at St. James' Neighbor2Neighbor program.  He had heard of the program from his friend Denise and eager to be of help, Wayne asked what he could do.  He started out helping another volunteer, and when Freddy stopped coming Wayne took over.  He comes early and starts filling the food bags.  He organizes the shelves and lets us know when we need certain items.  Wayne seems to know what the people need.  He keeps an eye out for the young mother who might need extra diapers, or for the homeless man who needs easy-to-open cans or packages.  He reminds us who received laundry detergent the time before and who could really use it this week.
Wayne's question is always: "What can I do to help?"  When asked about that Wayne says because he was given a second chance, he wants to use his days helping people.  On disability and not able to work, Wayne  not only volunteers at Neighbor2Neighbor, but at his girlfriend's mother's beauty shop and for others in his neighborhood  Wayne has been on dialysis three times a week for eight years, but his positive attitude and eagerness to help others greatly inspires many who have so much more.